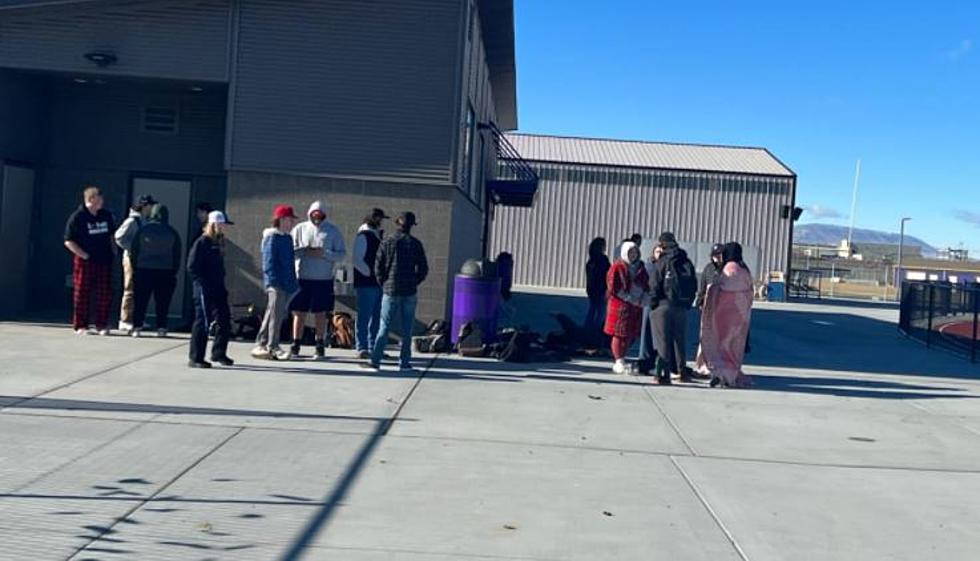 One Area School District Responds to Student Mask Protests
Part of Hanford protest Monday 1-31 (Townsquare media used by anonymous permission)
Following some protests in Richland and Kennewick that we have information about from Monday, January 31st, we did receive an email reply from Kennewick.
BETWEEN 12-20 STUDENTS PROTEST AT HANFORD SOME AT KAMIAKIN
From the information we received from various sources Monday, the Hanford mask mandate protest grew to about 20 students who were 'removed' or asked to leave class.
We heard 2-3 at Kamiakin, but it was likely more. A student said due to not wanting to crowd protesters all in one area, they were scattered in a few rooms. We do not have a total number for KaHS.
We do not have any information about any protests at Richland High or in Pasco.
  WE EMAILED RICHLAND AND KENNEWICK ASKING FOR INFORMATION OR STATEMENTS
As of Tuesday morning February 1st, we have not heard back from Richland. But Kennewick SD PIO Robyn Chastain replied with the following email:
"Our goal is to provide in-person education opportunities for our students, and we are grateful for the cooperation of our students, families and staff focused on keeping schools open by following the Department of Health's K-12 COVID-19 Health & Safety Requirements.  
 Our protocols have not changed. If a student is not a wearing mask, the school protocol is to offer a mask to wear. If a student refuses to wear a face mask, the next step is to contact their family so that they know the options available. We want for all students have an opportunity for in-person learning and we will work with the students and their families, so they understand the mask requirements."
We will continue to keep an eye on this situation as it develops.
LOOK: Here are the best small towns to live in across America