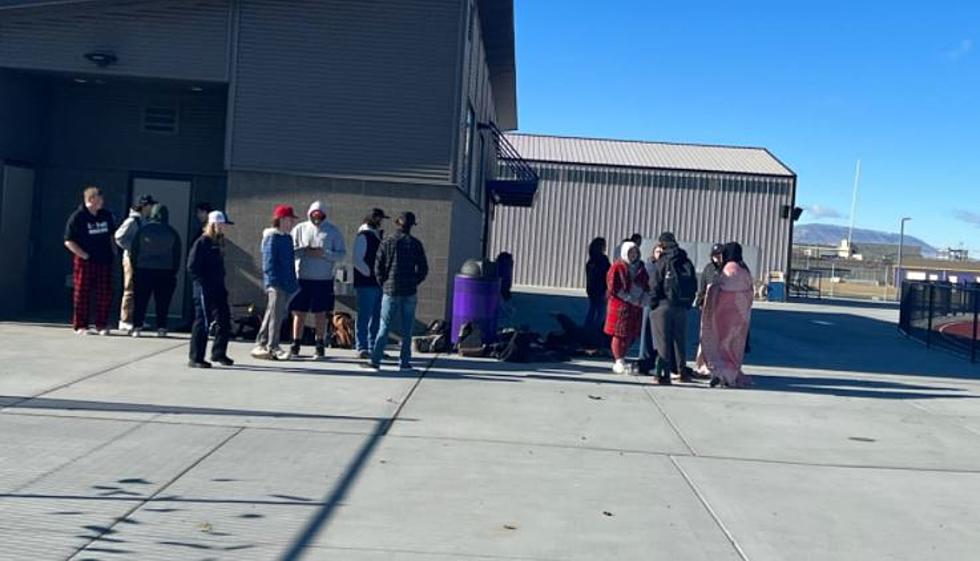 Area Student Mask Protests Leave Some Outside, Others Sent Home
HHS students sent outside following mask mandate protest (By permission of person attenting event-anonymous)
From the information we have seen and been provided with, it appears, so far, that most protests occurred at Hanford High School.
AREA STUDENTS SHOW UP WITHOUT MASKS TO PROTEST MANDATE
A state-wide effort to "ditch the mask" was being circulated on social media sites for a number of days prior to today, Monday, January 31st.
A week ago Friday, about ten Southridge Students protested in a similar way. According to KSD, about half did end up wearing one, the others were sent home with an excused absence if parents were reached.
Today, images were taken of Hanford students who were required to 'wait' outside due to their not wearing masks. A source told us initially they were sent to the nearby football field bleachers, then were provided with some blankets and food.
The number of Hanford students in the image appears to be at least ten or so, a source whose child was one of the students said it started with 12, and eventually grew to about 20 kids who joined in the protest.  We also heard 2-3 students at Kamiakin in Kennewick although there appears to be more. One parent who wished to remain anonymous said their child told them there were more, but they were being 'dealt' with in different parts of the school, rather than group them all together.
SOME PARENTS CLAIM STUDENTS SENT HOME WITHOUT NOTIFICATION
Several parents said they were notified by their HS child they were being sent home due to the mask protest, but the parents had not been notified before their child was sent packing.  Southridge officials gave students an excused absence if parental approval was obtained a week ago Friday.
A source who has first-hand information about Hanford relayed this to us via email:
"Kids were sent to the office, some sooner than others.  They were talked to about the masks being mandated in school, then taken out to the FB field. One of my daughters was sent to the office first period, my other daughter was sent outside with the others at second period. "
This parent did say they had a chance to speak with the Principal, and air their views and those of their children. This parent said the students who protested were "accommodated" and the school attempted to not just leave them outside in the cold and wind. This parent felt Hanford made an effort to at least understand why the protest was taking place and was not completely heavy-handed in their response.
We do not have any information or verification about other students who may have protested at other Tri-City schools.
 Emails sent to Richland and Kennewick School Districts, as of this writing, have not produced an "official" response yet. 
50 Famous Brands That No Longer Exist