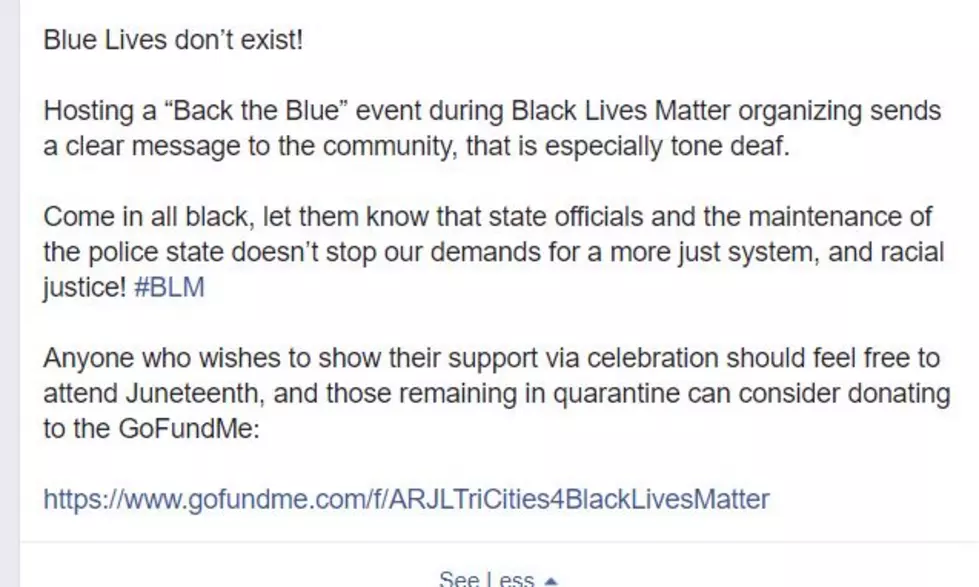 Kennewick BLM Counter Protest Page Contains Interesting Verbage
From BLM event post on Facebook (Facebook)
As organizers of the Back The Blue event announced they were cancelling their rally slated for Saturday 12-2PM by City Hall and the Kennewick Police Station, it was also noticed that a counter protest had been created on Facebook.
This statement was listed in the "Details" section about the event, reproduced here vebatim:
Hosting a "Back the Blue" event during Black Lives Matter organizing sends a clear message to the community, that is especially tone deaf.
Come in all black, let them know that state officials and the maintenance of the police state doesn't stop our demands for a more just system, and racial justice! #BLM
Anyone who wishes to show their support via celebration should feel free to attend Juneteenth, and those remaining in quarantine can consider donating to the GoFundMe:
As of Friday afternoon, the event post showed 58 going, 245 interested.
It is not known if this event will still happen now that the Back The Blue has apparently been cancelled due to what the organizer said were "credible threats."   Again, we do not know where these originated from. Have reached out to KPD.