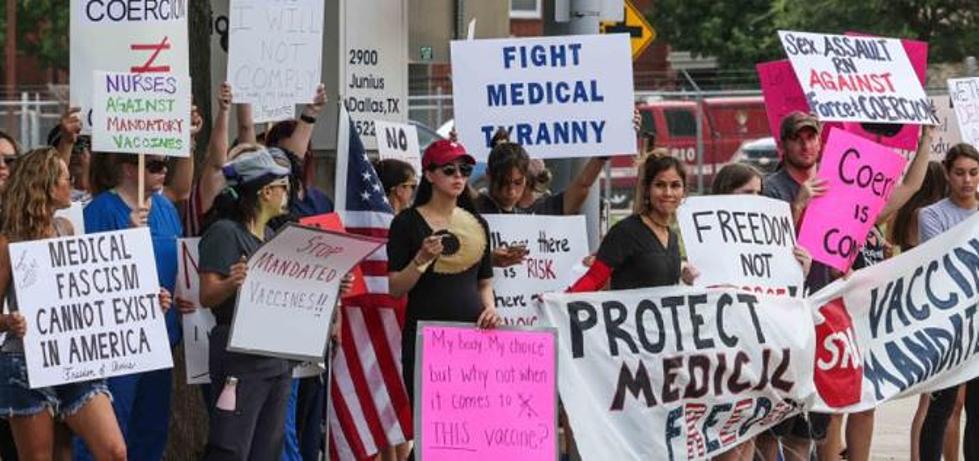 Citizens Up 'Pressure' on Officials, Anti-Vax Mandate Protest Thursday
Anti-vax mandate rally coming (Facebook)
On the heels of a very large protest in OIympia over the weekend at the State Capitol, and several in our area, another anti-vax mandate event is coming Thursday afternoon.
Sunday, thousands of persons gathered on or around the steps of the Capitol, waving signs, listening to speakers, and voicing their opposition to the vaccination mandates being forced down by the state.
Among the speakers were several GOP state legislators, including Rep. Jim Walsh (Aberdeen) and others.
  Earlier in the week, last Thursday Sept. 30th, hundreds of citizens staged a 'leave your shoes' protest in Richland at John Dam Plaza. The shoes, along with the notes left with them voicing that person's opposition to the mandate, were gathered and added to those at the Capitol protest Sunday.
Tomorrow's protest will begin at 5 PM, attendees are encouraged to bring signs, and before the protest, citizens are also encouraged to 'take the day' off using a mental health day or personal day, showing protest.
To see more about the event, click on the button below.
Speaking of events...
KEEP READING: Scroll to see what the big headlines were the year you were born